New "Send a file..." in iGoogle and Orkut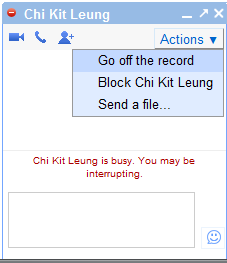 Google Chat Send a file
Google added a new feature in iGoogle and Orkut. That is the "Send a file" for Google Chat in the widget of iGoogle and Orkut.
I used this feature, that is quite good! I don't need to install any plug-ins. I just logined into iGoogle and click a contact in the "Chat" Section. Lastly, I clicked the menu option under "Actions". That is it! The file is sending now!

Sending a file
Sadly, GMail has not this feature yet!
Reference Link
Google Blog
Trackback address for this post
Trackback URL (right click and copy shortcut/link location)
No feedback yet