Diary Application is updated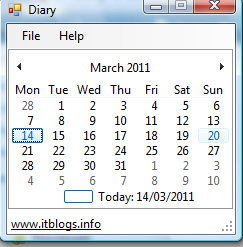 Last year, I built a diary application which is a "by-product" of learning .Net Serialization. I thought that is not a very bad product. But I started to use it for logging my tasks at work. At the same time, I picked up some bugs, such as Calendar does not bold the date with the entry. Moreover, I found some areas can be improved. For example, I added a "New File" menu option.
Please click here to download and give back me some feedback.
Trackback address for this post
Trackback URL (right click and copy shortcut/link location)
Feedback awaiting moderation
This post has 1 feedback awaiting moderation...