Category: "Android"
My colleague got an iPhone 4. I found even my Galaxy S got super amoled, the screen quality is bit poorer. I am a bit sad about it.
There is a known problem for GPS Accuracy in Galaxy. After my Galaxy S upgarded to JM1, that doesn't help at all. I tried to check my location, it spot me at the street next to the location where I stay. That is around 200m away. I hope the future 2.2 upgarde can fix it!
Telstra has announced HTC Wildfire will be in their shop on 24 August. Moreover, you get it as a pre-paid for $349. I think that is the first pre-paid Android phone in Australia.
Well, let's talk about the phone. That is pretty much standard HTC phone. It got Sense UI and Friend Stream. There are "non-standard" HTC feature. It has a LED flash(but I don't think that is very useful, that is much to use a torch.) The brightest feature is Swype. That is a sliding input method. I got it in my Galaxy S. That is very useful.
In a conclusion, that is very standard HTC phone, but it has an attractive price tag.
Reference:
Telstra
Google stated Nexus One will be their new standard dev phone. The price is good too, $529. Moreover, it will have Android 2.2(you need to download the update after the device is switched on). That is not bad at all. If I had not bought my Galaxy S, I would consider this option.
Reference:
Android Blog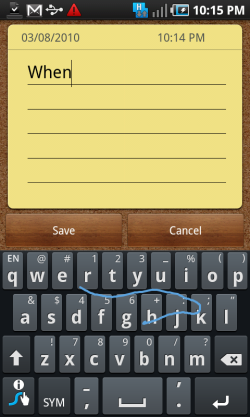 Swype is a new type of input method which came with Galaxy S, my new phone. I love it a lot. I don't type in the virtual keyboard any more. I only need slide the words in the virutal keyboard. That is much faster than the traditional typing. I found that is very helpful when I use MSN. Without it, using MSN in mobile is a painful task. After I started to use it, MSN chating in a mobile is much more comfortable. For details of Swype please visit their official website and watchdemo video. I really know how to describe it in words.