Skype for Android finally released!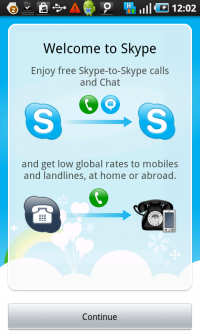 A few days, Skype released their "long waiting" Android Client. This is not a Lite Version,that is a full-version, which is similar with the one in iPhone and Windows Mobile.If you have a phone with Android 2.1 or above with 3G/wifi,you can use their IM and Skype to Skype call features。If you buy their skype Credit,you can send SMS to your friends around the world via Skype。Moverover,you can use the SkypeOut to make an international call. In additional, I believe you can use SkypeIn feature as well, even this feature is not stated in their official blog. This should not be a problem. SkypeIn is just redirecting calls from a landline number to your Skype account.
Wow!Skype for android is powerful!I bought Skype Unlimited Unlimited World subscription,therefore, I can make any international calls from skype anywhere.Too Bad Skype For Android doesn't support Galaxy S which is my phone!
Reference:
Trackback address for this post
Trackback URL (right click and copy shortcut/link location)
Feedback awaiting moderation
This post has 7 feedbacks awaiting moderation...