Previously, a lot of tweeters has talked about Chrome OS will be launched. I read the article in PCMag.com about that. They said they are invited to the demo of Chrome OS tomorrow.
Reference Links:
PCMag.com
I am in Australia for nine years, so I have forgotten some Chinese words. When I forget some Chinese words. I will use Google Translate to get those Chinese words by entering their English translation.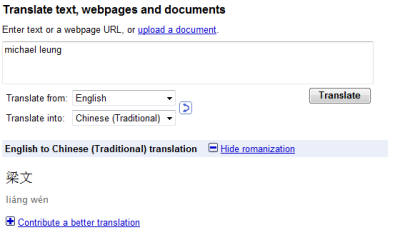 Today, I found Google Translate got a new look and feel. Moreover, there is an instance tranlation. There is an Ajax function, they will translate the words while I am typing. If you click "Show romanization", it got phonetic symbols for non-latin language.

In addition, there is a Text to Speech in English translation.
Reference Links:
Google Offical Blog
I found Google Chrome OS is in trending topic in Twitter. Those people are talking Google Chrome OS will be release very soon????
But I have checked Google Offical Blog and Chrome blog, there is no information about that news.
Google Sidewiki is a wiki function against with the websites. In a general terms, that is similar with writing a comment agianst with a website.
Today, Google listed some greatest entries in sidewiki and the information about the new features of sidewiki in API in their offical blog. That is interesting but if you want to read the sidewiki directly, I suggest you install Google Toolbar, you can get sidewiki from the website URL directly.
Reference Link:
Google Offical Blog
WordPress has released version 2.8.6. There are two major security fixes. Thus, all wordpress users are recommended to upgarde.
Reference Links:
WordPress 2.8.6 Security Release