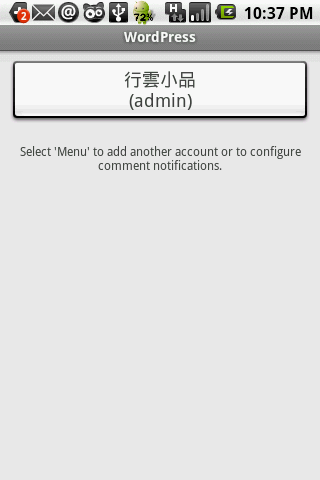 Finally, there is an offical Wordpress app for Android. But that is very similar with wpToGo,such as managing the comments and adding new posts. But it got a better interface and bit more features.

Comments
It got an tags interface,included Comments, Posts and Pages. That is much better than wpToGo. I remember it only can manage the comments and posts.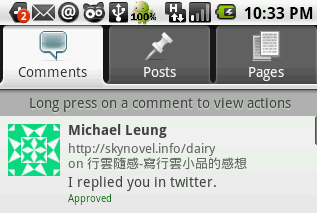 Posts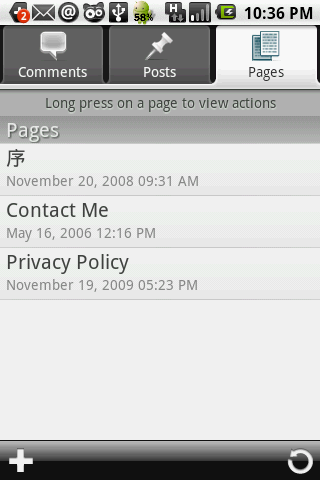 Pages
Those tabs are simple and clean. Moreover,long holding on the item will call its actions menu, such as approving the comments.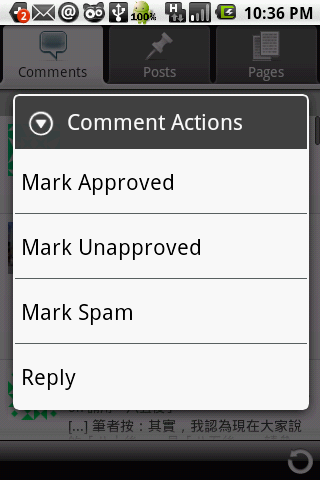 Also, same as wpToGo, you can add a new post.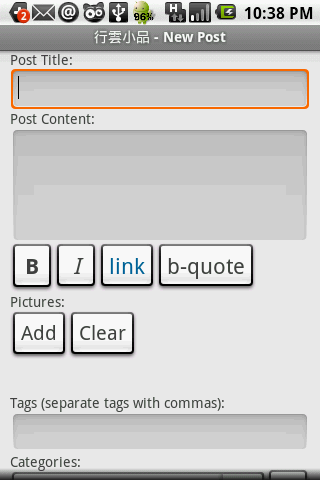 Both of wpToGo and Wordpress App got a very similar interface in this section.
In conclusion, this app can allow the users to manage their wordpress blog in an Android phone and easy to use. I quite like their interface. But I am not sure whether that is my mobile network problem or the app can handle the xml files from the wordpress web services. The app is very slow. Maybe, it gets all comments and pages every updates(It should only get 5 or 10 latest items).
Related Links:
Wordpres for Android
After Google released their first Google Phone, their Android Team will go to a world tour. The team will stop at the cities Europe, North America, and Asia. But No Australia! Maybe, our market is too small. I have seen a lot of people using iPhone, few people using Window Mobile. But I have seen very few Andorid users on the street in Australia.
Related Link:
Android Developers Blog - Android Developer Lab World tour
I remember around 10 years, I got so many problems on encoding when I read the chinese website. Whether it was simplified chinese(GB) or traditional chinese (BIG5). Sometimes, the website did not put the encoding setting in their HTML. So, a lot of times, I found the website was in non-readable. I needed to switch the encoding setting of my browser frequently.
For recently, most of webesites switched to Unicode, my problem is solved. According to Google, there are nearing 50% of website using Unicode now. That is good, I hope there will be 100% very soon. As a result, the encoding will be gone. Becuase Unicode is nearly including the characters from most of languages in the World.
Related Link:
Offical Google Blog
I think the hottest IT@topic today is Apple iPad. Last night, Steve Jobs announced the first Apple's tablet PC, iPad, in his keynote. The rumors were talking about that for long long time.
It doesn't bring a lot of surpises to myself. It looks like an over-sized iPhone. Moreover, it has another key feature, iBook. iPad sounds a good eBook reader. But I am more prefer an eInk screen. iPad is using LED-backlight screen. I can't stand for reading a textbook on this kind of screen for long time! But the price is very very attractice. For 16GB version, that is only USD$499!
Related link:
Apple iPad
I found Twitter has an new option on Trending. You can change the Trending to an individual country. But currently, they only provide the trending on these countries,included:
* Brazil
* Canada
* Ireland
* Mexico
* United Kingdom
* United States
Not Australia yet, so that is not very useful for me.