Hand On Android SDK 1.6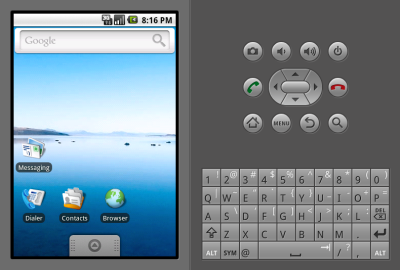 Today, Google released Android SDK 1.6. I have download the SDK and played around a bit the emulator. This seems to be a minior upgarde.

Expanded Search

The search widget can search on web as well as files in phone.

CDMA Support added

A new version of Andorid Market

A new skin, that looks much better.
The screen shoot for apps is provided

The apps developer can specify the target screen resolution.
Text to speech function added.
Keneral 2.6.29 is built-in
Gestures functions added,Now,app developers can define their own gestures action. Such as draw a "g" to open a new window.
The emulator has not Market and seems to be not many new functions can play in there. But I have tried the search function, a search for all is very very convenient. That is very important in a handheld environment.
I am looking forward the new android into a real phone. New devices comes with 1.6 will be around early October. But I guess the new ROM of HTC Magic may be later that.
OK, for time being, let watch the induction video from Google.
Credit :from Google use under Creative Commons 2.5
Reference Links:
Google Blog
Android 1.6 Highlights
Trackback address for this post
Trackback URL (right click and copy shortcut/link location)
Feedback awaiting moderation
This post has 400 feedbacks awaiting moderation...