Diary Application needs to be re-structured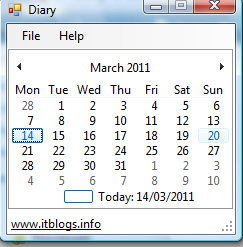 I have built a diary application around two years ago. It was just a little program only saving entries which organized by date. But now, I have added few new functions, such as auto-saving and am going to add a search function. I think that is the time to re-structure it. Now, all codes are fixed with forms. That is not good, application logic and data manipulation codes are fixed with the presentation layer now. I think at least data manipulation need to put into a repository class. That is very important. All applications should be maintainable!
Download Here
Trackback address for this post
Trackback URL (right click and copy shortcut/link location)
Feedback awaiting moderation
This post has 30 feedbacks awaiting moderation...