Blogger Client - BlogAway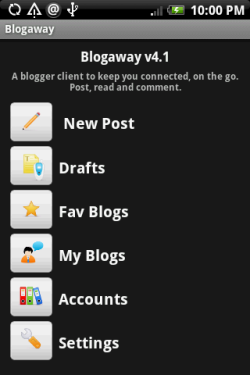 Perviously, I used AndroBlogger to access my Blogger account from my HTC Magic, but its features are very basic, and lack of supporting mutli-blogs. Recently, I changed to use Blogaway, although the user can only make a new post the blog which is the most recently updated, it can view all the blogs under your blogger accounts. AndroBlogger only can view the blog which is the most recently updated. In addition, Blogaway got a lot of functions. It supports Label and add pictures from the photo library in your phone. Moreover, it said it can do geo-tagging as well! Well, I have not tried this feature. I don't want the whole world know where I am. Besides, it got a "Fav Blogs" button, which can list the posts from those blogs you are following. That is a good blogger client, I think you should download it from Android Market!
Trackback address for this post
Trackback URL (right click and copy shortcut/link location)
Feedback awaiting moderation
This post has 23 feedbacks awaiting moderation...