Acer Iconia is updated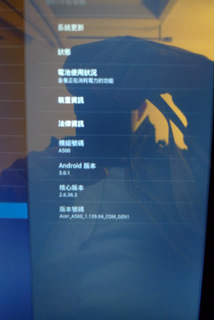 I had Galaxy S near a year. There is one things I don't like. Samsung doesn't release upgrade very frequently. On other hand, last week I bought Acer Iconia. Today, I found there is a upgrade, now is Android 3.0.1(I can't remember whether that is before too.). I guess that is easy to do. Iconia doesn't have the level of customization as Galaxy S. Moreover, it did the upgrade via wifi. I don't need to connect a PC, that is great.
(P.S. Sorry about the photo quality. I still cannot get Iconia to connect the SDK for Screen Shot. So, I took a photo for setting screen instead. )
Trackback address for this post
Trackback URL (right click and copy shortcut/link location)
Feedback awaiting moderation
This post has 1 feedback awaiting moderation...