Acer Iconia A500 - External USB Port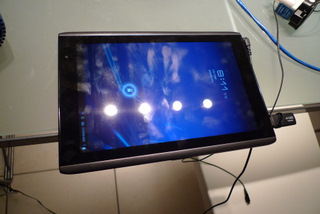 Another good feature in Acer Iconia A500 I love! That is the External USB Port. It can connect to an USB Flash Drive. That is very convenient. For example, last Saturday, a friend needed to play a song in our fellowship. Before I bought my tablet, I needed to a netbook or laptop for playing songs. But now, I only need a tablet. I can plug it into my tablet and browser though a file explorer app. I picked the song and click it, then it will plays from the tablet. By the way, the sound quality of A500 is very good too!
Moreover, you can plug in an external keyboard to USB port. Now, you can turn A500 is a cut-down version netbook! That is so great!
Trackback address for this post
Trackback URL (right click and copy shortcut/link location)
2 comments
what about an external hard drive?
I tried to connect an external Hard disk to A500, that is failed.

This post has 2972 feedbacks awaiting moderation...