Category: "Android"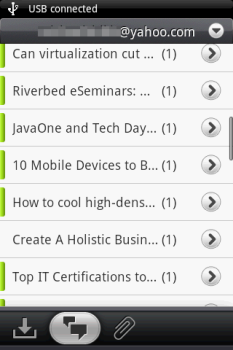 I found a lot of improvements in Sense UI. The first things I found, the email client got a new interface. You can choose to view the email grouped by conversations, rather than the traditional inbox. That makes more "Sense"! Because in the most of cases, I was dealing with a few issues at the same time. So, a lot of replies back and forward. Without the "Conversations" mode, I will lose the track of discussions! Yes, that is the reason I love Gmail a lot. Now I can use it in my Android Phone Email client too!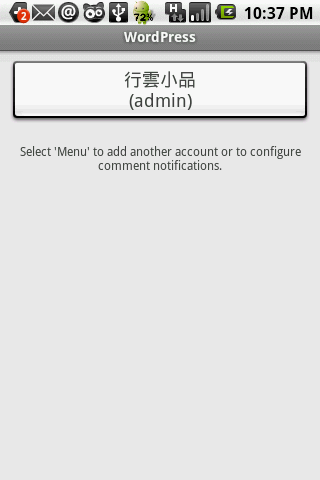 Finally, there is an offical Wordpress app for Android. But that is very similar with wpToGo,such as managing the comments and adding new posts. But it got a better interface and bit more features.

Comments
It got an tags interface,included Comments, Posts and Pages. That is much better than wpToGo. I remember it only can manage the comments and posts.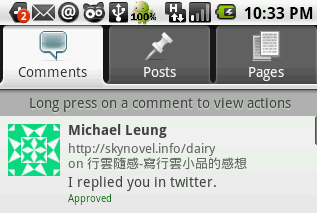 Posts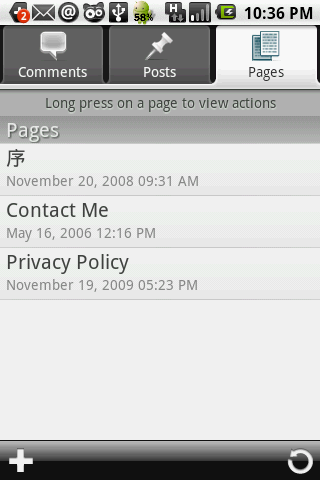 Pages
Those tabs are simple and clean. Moreover,long holding on the item will call its actions menu, such as approving the comments.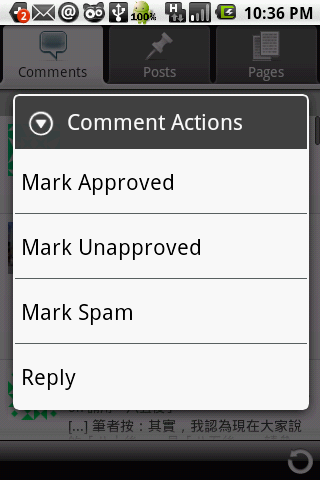 Also, same as wpToGo, you can add a new post.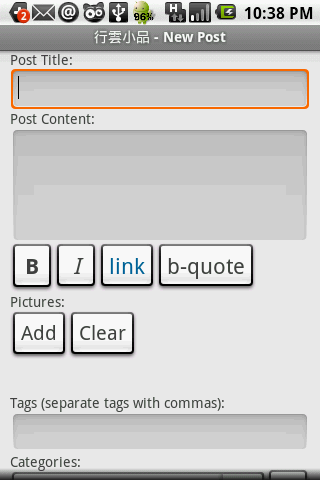 Both of wpToGo and Wordpress App got a very similar interface in this section.
In conclusion, this app can allow the users to manage their wordpress blog in an Android phone and easy to use. I quite like their interface. But I am not sure whether that is my mobile network problem or the app can handle the xml files from the wordpress web services. The app is very slow. Maybe, it gets all comments and pages every updates(It should only get 5 or 10 latest items).
Related Links:
Wordpres for Android
You can jump to a new window by changing the content view.

Code
| | |
| --- | --- |
| | setContentView(R.layout.second); |
But the type of Activity between two views must be same. In my case, I need to switch to a List view(Activity) from a normal window. I can't do by switching content views. The only way to do that is start a sub-activity, just like the following:
Code
| | |
| --- | --- |
| | Intent intent = new Intent((Context)this, NewWindow.class); |
| | startActivityForResult(intent, 0); |
Yes, then it will jump to a new window, after the action completes, my code will call "finish();" from the sub-activity. Then it will jump back to the main window.
A lot of people are talking about Google Goggles. That is a search by Image Search in Android. You can take a photo of Landmark, Books, famous artwork and even a Logo by an Android phone. Then it can recognise the image and convert to text. For example, they took a photo of London Bridge and it will do a google search on London.
In Australia, HTC Magic has not a ROM update yet, that is Android 1.5. Google Goggles requires Android 1.6+, so that is not for me to test yet!
Reference Links:
Google Goggles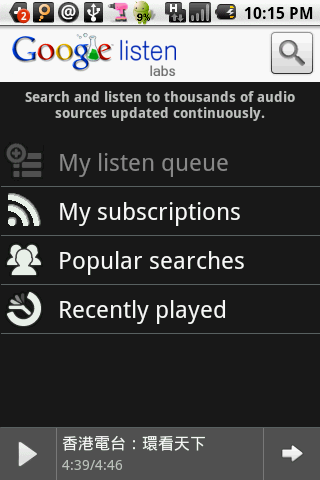 I started to use Google Listen. It can search the podcast, even I found some Hong Kong Podcast too. Moreover, it can subscribe by using a URL of xml file. That is very good. I turned my Android phone to an "Internet Radio".