Upgarding to Kubuntu 9.10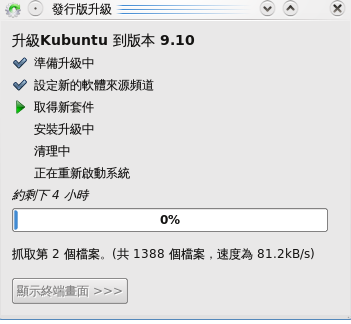 Kubuntu 9.10 is released for a little while. But I still have not time to upgarde. Today, I will start to work around lunch time, so I have free time on the morning. Yes, I am doing a upgarde now.
I clicked the notification icon first times, but I forgot to close Adept. For upgarding, you need to close it. After I closed it, the notification icon is gone! There is a helpful command, ALT-F2, then type in the box,update-notifier-kde -u. The upgarding window will pop up.
Well, the upgarding process is still going, that takes around 2 hours.
Reference Link:
https://help.ubuntu.com/community/KarmicUpgrades/Kubuntu
Trackback address for this post
Trackback URL (right click and copy shortcut/link location)
1 comment