Unboxing my new Kindle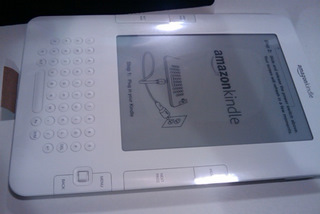 Last Friday, my Kindle arrived. Until now, I have played it for 3 days. So far, I love it a lot! Firstly, eInk screen is great!I have used it for an hour. That was very comfortable. I did not feel tired at all. Moreover, that is very energy saving! I have used for 3 days, but the battery indicator is still in a full bar! In additional, I found Kindle Store has a lot of free English classic book to download! Saving a lot of money, and it helps me to improve my English!
Well, it has some weakness. Firstly, I thought I could get a free 3G connection via Kindle. Yes, that is free to browse and download books from Kindle Store. But other than that, there will be a fee applied. Secondly, it has not a zoom in function in their pdf reader. I tried to open an A4 size pdf file, that is nearly impossible to read. Although I can set the screen to be landscape ,the page is in a readable size, that is still to hard to read. Lastly, that is only an eBook reader. Mainly, it can read the books. If you want it to have similar features as iPad, sorry, it cannot be compared with iPad. Anyway, Kindle designed to read books, it did a good job.
Until this moment, I am very happy about it. I have not any major complaints at all!
Trackback address for this post
Trackback URL (right click and copy shortcut/link location)
Feedback awaiting moderation
This post has 11 feedbacks awaiting moderation...