New Yahoo Mail Interface
I just login to Yahoo Mail, there is a brand new interface. The skin is changed as well! Very fresh!


The most noticable change is the new Application bar.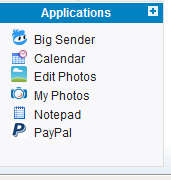 That sounds somethings like Facebook.
They are added:
- Big Sender - Sending the file up to 100MB and powered by ZumoDrive
- Calendar
- Edit Photo - Online Photo Edit by picnik
- My photo - Online Photo Album by Xoopit
- Notepad
- Paypal - for sending money online
Note that, most of applications are from third parties, not Yahoo themselves. I guess they are really going away from as Application Provider.
Trackback address for this post
Trackback URL (right click and copy shortcut/link location)
Feedback awaiting moderation
This post has 14 feedbacks awaiting moderation...