IE8 Upgarded
Finally, IE8 is in the standard of upgarde package. Thus, I upgarded to IE8. That sounds ok and rendering time is faster than IE 7.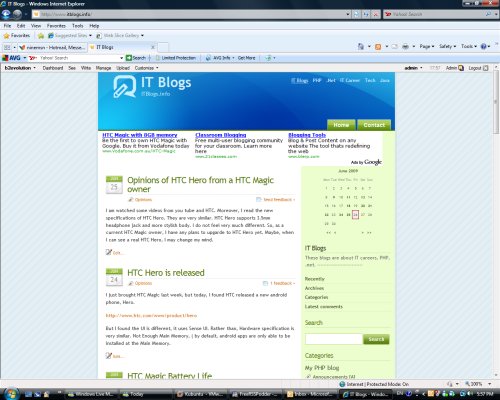 Trackback address for this post
Trackback URL (right click and copy shortcut/link location)
1 comment
Windows Internet Explorer 8 is the latest web browser developed by Microsoft in the long running Internet Explorer browser series. The browser was released on March 19, 2009 for Windows XP, Windows Server 2003, Windows Vista and Windows Server 2008.[1] Both 32-bit and 64-bit builds are available. It is the successor to Internet Explorer 7, released in 2006, and is the default browser for the upcoming Windows 7 and Windows Server 2008 R2 operating systems except in Europe
According to Microsoft, security, ease of use, and improvements in RSS, Cascading Style Sheets, and Ajax support were its priorities for Internet Explorer 8.
I do not know if Microsoft has really succeeded in achieving something great. I feel this browser is not user friendly and not quick compared to chrome. I request Microsoft to do something better than this.
Thanks
This post has 18 feedbacks awaiting moderation...