Category: "News"
I tried Android Market Web Version. This is easier to find an app than in 4" inch!. It will push to my phone later over air(therefore, the time phone connects to internet). That is quite convenient!
Last week, Google is released the Android 3.0 Preview. They said this version has improved UI Components for larger devices. Therefore, this version is Tablet PC. That is great. This current version Android is for smart phone only. That is strange to use this in 7" tablet.
Moreover, it got their 2D and 3D graphic rendering. That sounds in response to Tablet PC as well. Tablet PC can have better CPU and graphic card! Lastly, the feature I love most is Google eBook! You can access via an Android tablet to Google eBook. That is very hard to say how's great in text. Please watch their Android 3.0 video!

Using under Creative Commons Attribution 2.5
Please read the blog post from Google about Android. That is very hard to say in details, because they got too many changes in their version.
Reference:
Android 3.0 Platform Preview and Updated SDK Tools
Android 3.0 Platform Highlights
We were waiting for Android 2.3 for long time. This week, Google finally released Android 2.3. There are a few key improvements:
- better and faster UI
- a new soft keyboard
- a one-click cut-paste
- More gaming supports
- support WebM and VP8 video.
I think to learn more about it, let us watch the video from Google
Using under Creative Commons Attribution 2.5
I am looking forward to upgrade my Galaxy to 2.3 (if that will be possible :-)!)
Reference:
Android 2.3 Platform Highlights (Google)
I went to Harvey Norman today. Finally, I saw the real version of Galaxy Tab in Australia. Currently, it need to bind with a $59.95 Optus plan. Then you can have 10GB Peak Data allowance and 20GB Off-peak data allowance. Plus, $0 Galaxy Tab. But that is still too much to me. Moreover, I found 7" screen is a bit too small.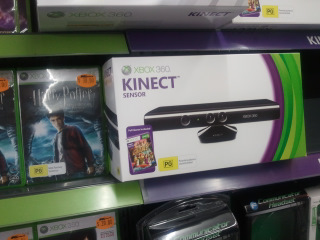 A few days ago, I found Kinect is in Kmart. They got the stocks. I remember when Wii came out, we only could find the empty box of Wii. You had to place order and wait at least a few weeks. But Now, Kinect doesn't sound exciting as that level. In my case, I got Wii, I don't want to buy a Kinect. They sounds too similar.