Brisbane Apple Store
Although Apple Store is not new to Brisbane, chermside and carindale have Apple store, that is a bit strange our CBD has not Apple Store. That is not usual.
Well, I guess they have not a right spot yet. Recently, I believe they found one. I was in City last week. I found MacArthur Central has this: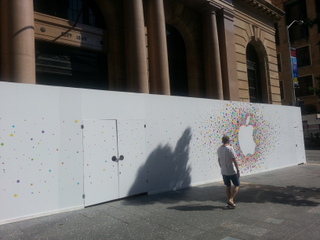 Apple Logo is on there. An Apple Store will open in there at MacArthur Central. That is great, we got a Apple Store in our CBD, that is same as Sydney.
There is an interesting. MacArthur Central is a heritage-listed building. Therefore, Apple cannot change it into a glass block building same as other apple store. I wish how this apple store can fit the traditional apple store style!
Address :
229 Queen Street Brisbane QLD 4000
Trackback address for this post
Trackback URL (right click and copy shortcut/link location)
Feedback awaiting moderation
This post has 144 feedbacks awaiting moderation...