Category: "Android"
You can jump to a new window by changing the content view.

Code
| | |
| --- | --- |
| | setContentView(R.layout.second); |
But the type of Activity between two views must be same. In my case, I need to switch to a List view(Activity) from a normal window. I can't do by switching content views. The only way to do that is start a sub-activity, just like the following:
Code
| | |
| --- | --- |
| | Intent intent = new Intent((Context)this, NewWindow.class); |
| | startActivityForResult(intent, 0); |
Yes, then it will jump to a new window, after the action completes, my code will call "finish();" from the sub-activity. Then it will jump back to the main window.
A lot of people are talking about Google Goggles. That is a search by Image Search in Android. You can take a photo of Landmark, Books, famous artwork and even a Logo by an Android phone. Then it can recognise the image and convert to text. For example, they took a photo of London Bridge and it will do a google search on London.
In Australia, HTC Magic has not a ROM update yet, that is Android 1.5. Google Goggles requires Android 1.6+, so that is not for me to test yet!
Reference Links:
Google Goggles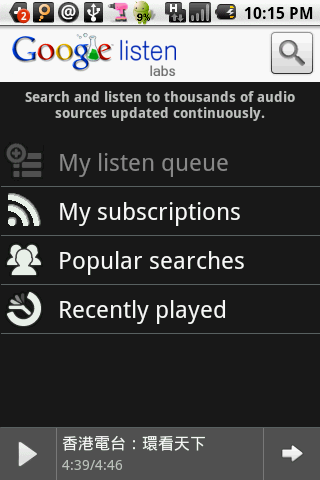 I started to use Google Listen. It can search the podcast, even I found some Hong Kong Podcast too. Moreover, it can subscribe by using a URL of xml file. That is very good. I turned my Android phone to an "Internet Radio".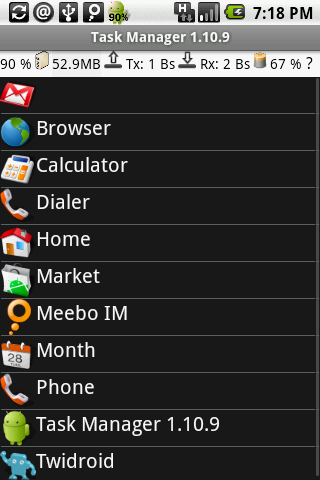 Android is great. The most of applications are free and are improving themselves. For example, yesterday, I got the latest of Task Manager 1.10.9. I got it has a battery indicator. I love it, it tells me the percentage of remaining battery!