Category: "Android"
I found there is Skype Mobile for Android. I tried to enter my mobile in the webpage. Yes, they sent sms contains the download link. But the download link is refered to 3 Australia and it said Skype Mobile is not available for my Andorid OS version(1.5). I got old version of Android, 1.5. There is reasonable not supporting that old version OS. But after I read the content of webpage of Skype Mobile for Android. The content sounds specifics for "Verizon", which is a US telco. So, I believe Skype Mobile for Android needs provider support as well. And so far, only "Verizon" supports that.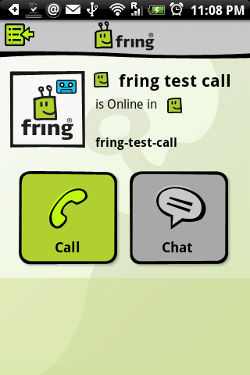 So far, Skype has not a fully version for Android. I have tried Skype lite before. But that is just like a kind of IM only. I can't make a voice call via that directly. But there are some third party clients can do voice chat in Android. I tried one of them, Fring. It supports Skype(Well, it also supports MSN Messenger, ICQ, Google Talk, SIP and Twitter). However, there are some disadvantages. Firstly, you need to get a Fring account. I believe all skype calls need to go through it and they will hold your skype credential. Secondly, you cannot use SkypeOut and SkypeSMS too. But it is better than Skype Lite, at least I can call my friends who are online with a Skype account.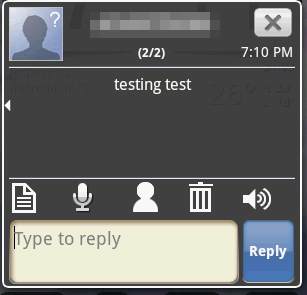 Handcent SMS
I wish to introduce "Handcent SMS". That is a very nice SMS client. Firstly, it looks much better than the black and white Default SMS Client.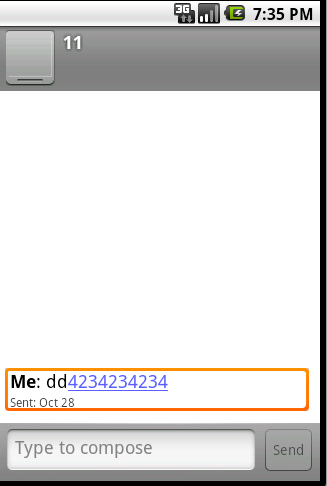 Android Default SMS Client
Moreover, it supports "Text to speech" and "Voice Recognization"(I can't test it because I have not installed recognizer"). In additional, there is a set of SMS template. Yeah! I love it a lot. It saves me a lot of time to type, becuase my sms messages are always something like, "where are you" and "I'm running late.", those kinds of simple stuff! Now, I just need to select from the template for the reply!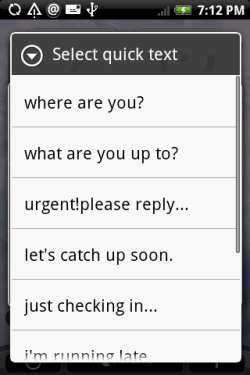 SMS Templates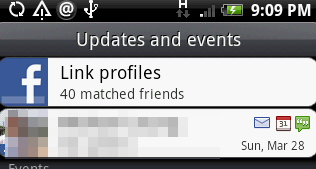 Facebook App
I was wondering where is the facebook app in Sense UI. In the settings, there is a section to enter facebook details. There should be an app for this. Today, I found it. We can see our friends' status updates under People! That is a good concept, grouping the facebook into the contact list. That is much better to have a standalone facebook app!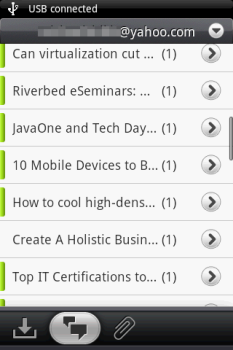 I found a lot of improvements in Sense UI. The first things I found, the email client got a new interface. You can choose to view the email grouped by conversations, rather than the traditional inbox. That makes more "Sense"! Because in the most of cases, I was dealing with a few issues at the same time. So, a lot of replies back and forward. Without the "Conversations" mode, I will lose the track of discussions! Yes, that is the reason I love Gmail a lot. Now I can use it in my Android Phone Email client too!