Category: "Android"
Last week, Google is released the Android 3.0 Preview. They said this version has improved UI Components for larger devices. Therefore, this version is Tablet PC. That is great. This current version Android is for smart phone only. That is strange to use this in 7" tablet.
Moreover, it got their 2D and 3D graphic rendering. That sounds in response to Tablet PC as well. Tablet PC can have better CPU and graphic card! Lastly, the feature I love most is Google eBook! You can access via an Android tablet to Google eBook. That is very hard to say how's great in text. Please watch their Android 3.0 video!

Using under Creative Commons Attribution 2.5
Please read the blog post from Google about Android. That is very hard to say in details, because they got too many changes in their version.
Reference:
Android 3.0 Platform Preview and Updated SDK Tools
Android 3.0 Platform Highlights
My Galaxy S was hanging, then I tried to press the buttons. That is a very normal behaviour. But while I was pressing various buttons, a strange things happened. It did a screenshot. My phone is not root yet! What have I done?! I did not know what buttons I pressed. I spent some time to try reproducing that. Then I found while I am holding the back button, and then pressing the home button. I can do the screenshot.
After that, I tried to read the operation menu, that is not such function record. But I did a google search, there are a lot of people found out this trick!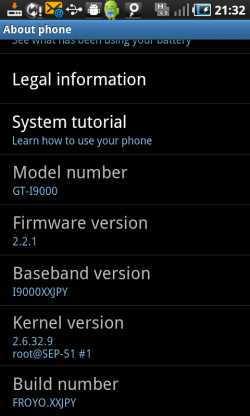 I fixed the restarting Kies problem. As a result, I can connect my phone to Kies. That means I can get the official Android 2.2 upgrade package for Galaxy S.
Yesterday, I completed the upgrade. I found my phone is much faster. Moreover, I can use Skype. That is great! I like it!!!!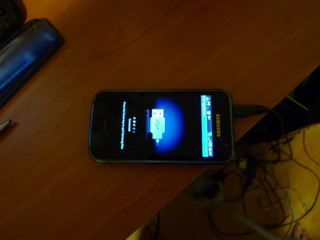 I have tried to fix the Kies restarting problem. I have uninstalled some applications, but it did not fix the problem. I finally I copied all data in the internal and external SD. And then I formatted the sd cards. Finally, all works now!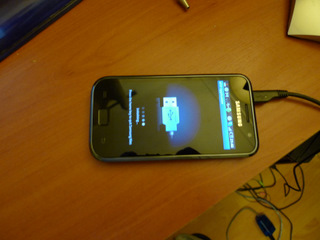 Finally, I got some free time to upgrade my Samsung Galaxy. But I found I cannot get my Samsung Kies keeps to restarting in my Samsung Galaxy. That sounds some applications are crashed with Kies. I tried to unstall Foursquare. I remember after I installed Foursquare, my phone got some funny problems with Kies. That is not helpful at all. I think I need to format my SD cards.