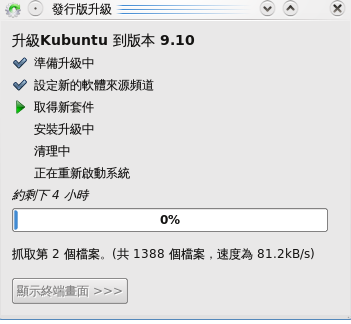 Kubuntu 9.10 is released for a little while. But I still have not time to upgarde. Today, I will start to work around lunch time, so I have free time on the morning. Yes, I am doing a upgarde now.
I clicked the notification icon first times, but I forgot to close Adept. For upgarding, you need to close it. After I closed it, the notification icon is gone! There is a helpful command, ALT-F2, then type in the box,update-notifier-kde -u. The upgarding window will pop up.
Well, the upgarding process is still going, that takes around 2 hours.
Reference Link:
https://help.ubuntu.com/community/KarmicUpgrades/Kubuntu
A lot of people are talking about Google Goggles. That is a search by Image Search in Android. You can take a photo of Landmark, Books, famous artwork and even a Logo by an Android phone. Then it can recognise the image and convert to text. For example, they took a photo of London Bridge and it will do a google search on London.
In Australia, HTC Magic has not a ROM update yet, that is Android 1.5. Google Goggles requires Android 1.6+, so that is not for me to test yet!
Reference Links:
Google Goggles
Picasa 3.6 is avaliable to download now. This version supports Collaborative Album, you can upload the photo to your friends' ablum. Moreover, it got name tag recommendations. The feature I like most, there is an option to preserve original JPG compression quality when the user upload the photo to Picasa Web Album!
Reference Links
Picasa Blog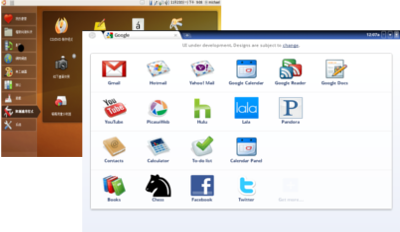 I like to use Ubuntu Remix more than Chrome OS in a netbook environment. No Doubts, Chrome OS is much faster than Ubuntu Remix, even Ubuntu Remix is already optimised for Intel Atom. I like it, because that is a OS with full features. In some situations, for example, I am on a travel in the rural area, or in a hotel room with a daily internet over $20 per day, I do not prefer to have a netbook always online. For Chrome OS, I nearly cannot do anythings, but I still want to do some basic tasks, such as editing a word document or some photos. For Ubuntu Remix, there are GIMP and OpenOffice built-in. I can still stay offline. In my situation, I will choose to use Ubuntu Remix rather than Chrome OS, because I can choose to not online.