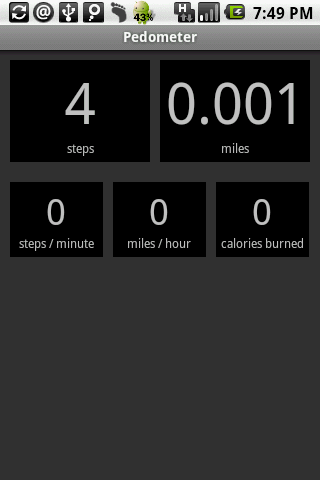 The most of your guys know Android can be a phone, but it can be a pedometer too. There is an apps, calls "Pedometer" in the Android Market for this purpose. I think it used the accelerometer in the phone to sense the motion.
I used that to track the calories I burned when I walked from my office to Brisbane City(I am driving to work every day now.). I am not sure the accuracy of this apps, at least it can give me a rough ideal about the amount of engry I burned.
I got a flu, I felt sick for about a week. So, I cannot update this blog. Today, I opened my Google Reader. There are a number of news in there, I have spent a bit more time on my bed for these few days. Wow, I missed a lot. The most interesting one is Google Malware Warning. Now, Google will put "This site may harm your computer." in the search result. Wow, they are doing anti-virus job now and that is useful.
Find out more:
Google Offical Blog
If you are a webmaster, you find your website are tagged with Malware Warning by Google. I suggest you should read their blog about Malware Testing System at Google Webmast Blog
I found out the work around for Single Origin Policy for cross sites client scripts and AppEngine. But that is not very good. That is not a pure client side solution. The client scripts need to request a PHP (or scripting files) in the same server as a proxy. That PHP script will forward the requests to AppEngine and get the responses back to the client scripts.

Google Web toolkit and AppEngine are working together very well. But I found a lot of tutorials showing GWT script and AppEngine are sitting in a single box. But I believe that should be able to send RPC calls to a separated servers. Google Map GWT library is to send RPC calls to Google Map Server. So, there should be a way to write an application with a separated GWT client script and AppEngine.
(Note: I found after the service class casted to ServiceDefTarget, I can use setServiceEntryPoint to a remote server. But our web browsers has Single Origin Policy, which blocked the request to remoted servers. I am checking whether any work around.)
I read a blog post from Android Developers Blog. There are a step-by-step tutorial for Gestures API. Finally, I got a more clear picture. Those gestures are to control the action of applications, like a shortcut. For example, you can write a circle on a screen, that means "Open a new file".
Find out more:
Android Developers Blog