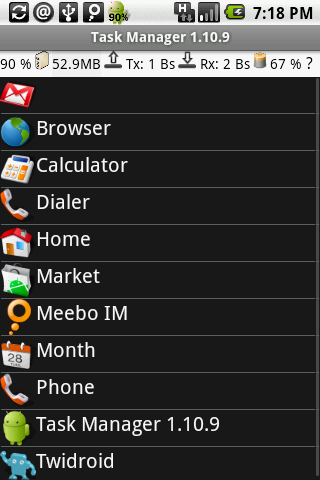 Android is great. The most of applications are free and are improving themselves. For example, yesterday, I got the latest of Task Manager 1.10.9. I got it has a battery indicator. I love it, it tells me the percentage of remaining battery!

Although we have used "RT" to rewteet for long time, but there are not an offical rewteet yet (A month ago, I have heard about some people got that function.). Today I have been added to the "Retweet beta group". I found all public tweets has a rewteet button. If the author of the tweets sets their tweets to be private only, the retweet button won't be shown.
Yesterday, Google announced they bought AdMob in their offical blog. The interesting point is AdMob also doing advertisements in Mobile Apps. Currently, Adsense has a beta version on iPhone and Android apps. Maybe, after that, they can speed up their development.
Reference Link:
Google Offical Blog

I found Twitter web version got an improvement! I used to click the refresh button for checking whether any new tweets arrives. But today, I found the webpage got a little yellow box to update you when there are tweets. That is a useful function for a guy who does not want to any twitter desktop applications.
I have installed an Atahuapla Theme version 3.2, in my wordpress blog. I found the google map in my blog is not working well. The map image is not showing. The problem is so easy to slove. I updated it to the latest version 3.4.4 and disabled the inline Google map plug-in. That works fine. I will use this, because that looks tidy. Moreover, I can add my own image as the header!