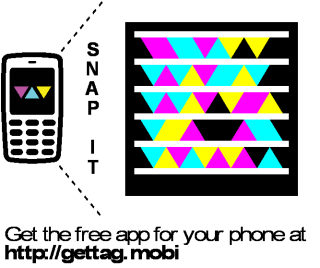 One of my twitter friends mentioned "Microsoft Tag", so I had a look in Mirosoft Tag website. That looks like a Bar code. Actually, that is very QR Code. But you need to download the scanner program from Microsoft. No worries, it supported in the most of platforms,Windows Mobile,iPhone,Blackberry,Symbian S60 2nd, 3rd Editions,J2ME. Even I tried on my Android phone as well, there is a Microsoft Tag reader app in the Android Market. The app worked fine in my HTC Magic. One interesting point I found is all URL directs need to go through Microsoft Servers. When I scan a QR Code with a web address, a web browser will be poped up and load the URL directly. But when I scan a Microsoft Tag, it will load a URL with Microsoft Server Address. I believe the reason for this is tracking the scan. After I logined at Microsoft Tag, I can generate a report about the number of scans for each tag!
Well, that is another interesting technology. But I am more prefer to use QR Code because that is a "opened" standard!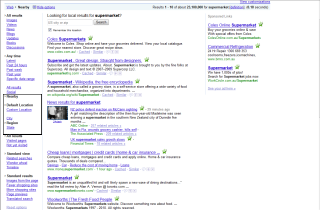 I got an eye infection last week, so I had to stay away computer screens for a few days. That is the reason I cannot update my blog. Today, I got some spare time to catch up the IT news. I found a new feature from Google Web Seach.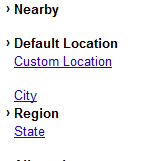 That is refining the search result by location. For example, I did a search for "Supermarket", then I can click the custom location and enter "New York". Then only "New York" supermarket will be shown! That is cool! But I found this feature is only available in US. I had a look in Google Australia, I can't find the flter, "Nearby".
Related Link:
Google Blog
I have been asked to build a library management system for my church. That is very very simple system. The system only needs to track the borrow records. I don't think that even needs a database. Orginally, I planned to use serialization for storing the records. But if in future, they want the records to be viewable on our church website as well. Then I need to port the records to the database and change the application to use a database. OK, maybe, that is good to install mySQL in the computer. Well, that is too over-kill the resources. So, I found Sqlite. It can relpace the flat system to store the record. Moreover, it has an ADO.Net driver and is fully supported by NHibernate. In the future, I can port the codes to another database technology by changing database driver in NHibernate. Finally, I chose Sqlite as the data storage.
Last week, I was very busy. I had not any time to track the news of Android. Today, I finally found some spare time to read the news about Android. I found the new HTC Android phone, Legend, is very impressive. I watch the hands-on video from Engadet. That is so greate new Sense UI and Android 2.1!!!! The most important feature is mult-touches!!!!
I went to Harvey Norman tonight. I saw an iRiver eBook Reader. This is my first times to see the real product. It looks very tiny. The screen is too small for me. Moreover, it costs $395(if I remember correctly). That is too expensive. Anyway it looks very cool, it got a white skin!!!