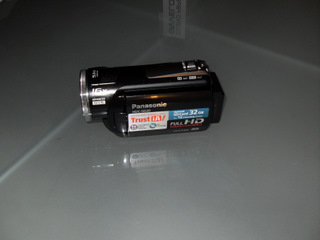 During last year Christmas Holidays, I brought myself a new toy, Panasonic HDC-SD20. This is a Full-HD SD camorder. That is around AUD$700. Not Expensive. But it is quite powerful. It got 16x optical zoom and optical image stabilizer. Moreover, it got 5.1 channel MIC. Let's see the quality of my new toy, this is 2010 New Year Firework in Brisbane:
There is a weakness. The software comes with the package is HD Writer. It has the basic video editing functions, such as adding title and transition. I can't find it to some more advance stuff, such as lightings. Well, that comes with the packages, I did not ask for much functions. I looked around some "professional" video software. The first software I tried is Corel Video Studio. That got very nice inteface, and a lot of friends recommended it. But it seems to be not support AVCHD, which is the format my cam using. Then I found Pinnacle HD Studio Ultimate. It supports this format and the interface is nice. There are a lot of built-in special effects!
I got a newsletter from Amazon. On 19 January, 2010, Kindle DX will be available internationally. This times, it got a bigger eInk screen 9.7".
Related Link:
Amazon
I am trying to reimage one of my old laptop which has Celeron 1.1Ghz and 128 RAM with a linux distro. I remeber I bought it on 2002 or 2003. 7 years old laptop! I have tried Xubuntu, it should be ok form 128 MB. But I can't get it running to GUI installer. It stopped at a black screen with a mouse cursor.
I found another lightweighted linux distro, Puppy Linux. It can get it running from a Live CD. But it can't detect my network card. Tomorrow, I will try Damn Small Linux. I hope it will work.
Google released their own branded phone, Nexus One. That is with 3.7" OLED screen and a 1GHz Qualcomm Snapdragon. So, it should be super fast, may be faster than iPhone 3GS too. The most impressive function is voice enabled keyboard. Rather than typing, you can speak what you want to type in a textbox.
But that is an interesting point Nexus is manufactured by HTC. I am thinking wheather it is a Google Version HTC phone, same as Google I/O = HTC Magic.
Read more:
Google Offical Blog
Not long ago, WordPress 2.9 was released, I am very impressed by its improvements, such as the image resizing function. Today, WordPress released 2.9.1 version. That is a minor upgarde, only for fixing some small problems and making compable to the most of hosts.
Please download at http://wordpress.org/development/2010/01/wordpress-2-9-1/