Last week, I was very busy. I had not any time to track the news of Android. Today, I finally found some spare time to read the news about Android. I found the new HTC Android phone, Legend, is very impressive. I watch the hands-on video from Engadet. That is so greate new Sense UI and Android 2.1!!!! The most important feature is mult-touches!!!!
I went to Harvey Norman tonight. I saw an iRiver eBook Reader. This is my first times to see the real product. It looks very tiny. The screen is too small for me. Moreover, it costs $395(if I remember correctly). That is too expensive. Anyway it looks very cool, it got a white skin!!!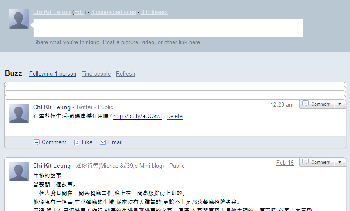 I tried the new service from Google, Buzz. That is very very similar with Twitter! You can follow other people and others people follow you. But it can get from other sites, such as Blogger,Picasa, Google Reader, even you can connect to Twitter, getting your tweets to Buzz!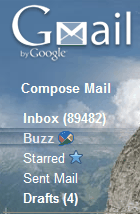 Another great feature is Buzz completely integrated with Gmail. That such as another menu item under your Gmail menu.
Well, so far, I am using twitter and set my Buzz connected to Twitter. So, my Buzz is only a mirror of my twitter at this moment.
WordPress 2.9.2 is released. This seems to be a minior update. That is only related trashing a post. In the older version, some untrusted users can delete other post, please their release note.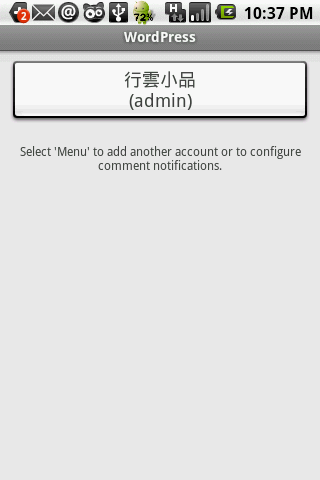 Finally, there is an offical Wordpress app for Android. But that is very similar with wpToGo,such as managing the comments and adding new posts. But it got a better interface and bit more features.

Comments
It got an tags interface,included Comments, Posts and Pages. That is much better than wpToGo. I remember it only can manage the comments and posts.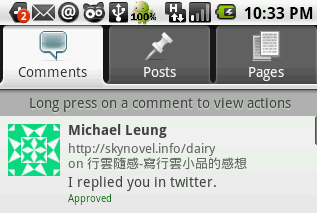 Posts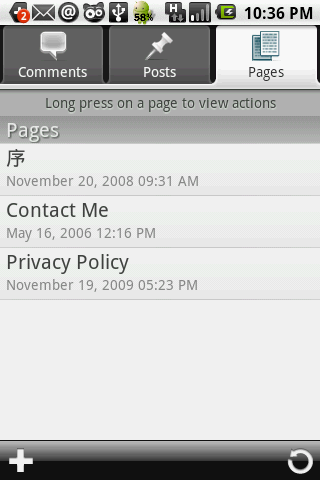 Pages
Those tabs are simple and clean. Moreover,long holding on the item will call its actions menu, such as approving the comments.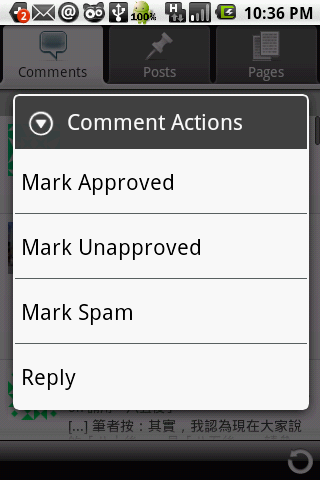 Also, same as wpToGo, you can add a new post.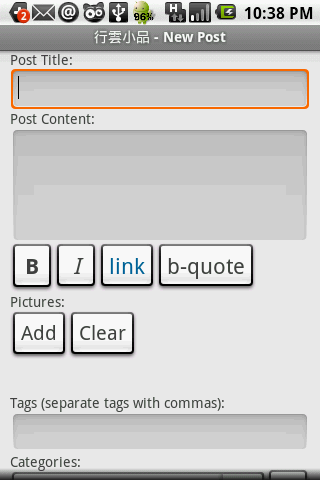 Both of wpToGo and Wordpress App got a very similar interface in this section.
In conclusion, this app can allow the users to manage their wordpress blog in an Android phone and easy to use. I quite like their interface. But I am not sure whether that is my mobile network problem or the app can handle the xml files from the wordpress web services. The app is very slow. Maybe, it gets all comments and pages every updates(It should only get 5 or 10 latest items).
Related Links:
Wordpres for Android