Category: "Android"
I tried very hard to get Android DDMS(Debug Monitor) working. It cannot detect my new phone(Galaxy S). Moreover, my computer kept to say "SAMSUNG_ANDROID" driver missing. No surpising, the computer cannot recognise my new phone. As a result, Android DDMS(Debug Monitor) cannot connect to my new phone. I was trying to search for the "SAMSUNG_ANDROID" driver,but no lucks at all. Well, I know Samsung has a software to desktop synchronization, Kies. Maybe, it can help. After I installed it. All driver problems are resolved! I can use Android DDMS(Debug Monitor) now.
Google has a new developer tool for Android, App Inventor for Android. That seems to be much easier than eclipse IDE plug-ins. The interface is as simple as Visual Studio. Thus, Google said this tool is aimed to general public users. But I think there is some programming skills required. Please image after you drop a button on a form, you need to program the logic when the button is clicked.
Amazon has released Kindle for Android last week(I think). But that requires Android 1.6 or above. My HTC Magic is still running 1.5. That is too bad. I cannot test it. However, basis on the screenshots, it should be cool!
I read the article from eWeek. This is about the latest HTC Android Phone. For hardware, that is very high-end, 1Ghz Snapdragon CPU and 8-megapixel camera. But its appearance, that is a bit boring, it looks too similar with HD2!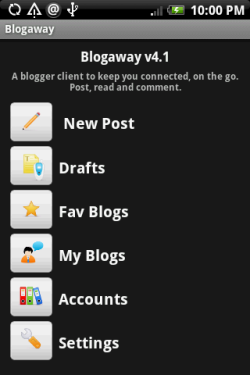 Perviously, I used AndroBlogger to access my Blogger account from my HTC Magic, but its features are very basic, and lack of supporting mutli-blogs. Recently, I changed to use Blogaway, although the user can only make a new post the blog which is the most recently updated, it can view all the blogs under your blogger accounts. AndroBlogger only can view the blog which is the most recently updated. In addition, Blogaway got a lot of functions. It supports Label and add pictures from the photo library in your phone. Moreover, it said it can do geo-tagging as well! Well, I have not tried this feature. I don't want the whole world know where I am. Besides, it got a "Fav Blogs" button, which can list the posts from those blogs you are following. That is a good blogger client, I think you should download it from Android Market!