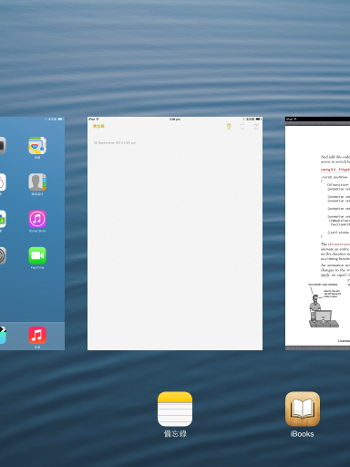 I spotted two new features. Firstly, there is the new multitasking UI. In older version, you can see the icons of the running apps. This version you can see the screen shots by pressing menu button. And then just press the screen shot, you can switch the apps.Well, that is in android world for long time.....
The second one is a bit annoying. It will authenticate the connection cable. It will reject all non-authorized cable. My one is non-apple one, I cannot use it to charge my ipad anymore/
After I updated the android studio and I run my project, I got this error: NoSuchMethodError: com.google.protobuf.LazyStringArrayList.(Lcom/google/protobuf/LazyStringList;). I cannot build the project. The problem is the old protobuf jar still in lib folder. Then just delete the file, protobuf-2.4.1.jar in [drive]\Program Files (x86)\Android\android-studio\lib. All should be working fine now.
Apple has just released two new models of IPhone, IPhone 5c and 5S, and they will be on salse on 20 September in Australia. I am really considering to buy an iPhone. We are working hard on building a new iOS app. Currently, we just a iPad as a dev device. I think we need a phone too. Moreover, iPhone 5c and 5S looks cool. I like the blue iPhone 5c. However, I like 5S too. I love the fingerprint recognition system. I do need to type for installing apps, jut use the fingerprint is ok! That is great. Both phones are good. But the key problem is price. 5c is from $739 and 5S is from $869. That costs too much for me.....
Reference:
Apple website