I created an opensource project, AdvGenStopWatch. This is a simple stop watch program and aimed to show how to use WPF. Including the following features:
- How to use Grid Layout and ViewPoint, this make all elements will be autosize.
- How to use Timer in WPF
- How to use ListView
I believe this is a good starting point to learn WPF.
I started my small firm last year. Now, we had a few clients and are working hard to find more clients. That is not in at the first stage, we only built the technologies. I have to care about sales and insurance. I cannot just focus on development. But that is the way I chose.
Last night, I was in the Opening Ceremony of Microsoft Innovation Centre in Brisbane. There are a number of startup companies, similar with mine being invited. I am very impressed there are that many of startup companies in Brisbane. There are more than a hundred people attended! Moreover, I got the impression from the people I met, the most of startup companies in Brisbane funded by the owners. That is different from US, getting the funding from VC. That is interesting.
Anyway, let's talk about the main point. Microsoft Innovation Centre in Brisbane is the first Microsoft Innovation Centre in Australia. It will be the hub for startup companies and provide the service to startup companies from their partner. Primary goal is helping the startup companies. They partnered with Universities, such as UQ and QUT, River City Lab, which is a co-working area provider and business services providers. That sounds it got a strong backup. I am forwarding to have more information about the services from Microsoft Innovation Centre. I really need some help to bring up my company.
Yesterday, I went to the QLD MSDN User Group Meeting. One of presenters shows his opensource project, Glimpse. That is very very cool! This project is a Server Side version of FireBug in .Net. It will add a collapsible div at the bottom of page. In the div, all about the current request, including the server variable and session id, even MVC route. That is so cool! In addition, inside your code, you can add the track and the div will show them as well. Lastly, there is a remote tab inside this div. In the remote tab, you get the request information about the other clients which are on the same application. That is very helpful to mobile development. You can go into a page in the desktop and access the request information which is from the other mobile clients, rather than directly accessing them from a mobile device. I highly recommend to spend some time on learning this project!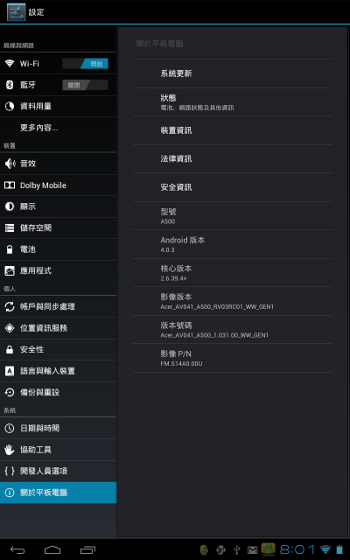 I have upgraded Acer Iconia A500 to Android 4.0. That is easy! A500 will download the package and install for you. I am very happy about the upgrade! The interface is much much nicer. For example, those icons look more 3D. In addition, between actions, it has some fade-in and out effect. That is nicer. Moreover, I found the speed is improved. That is so great!
P.S. Please make AcerNidus and all acer related apps are the most updated version before you process the upgrade. This will make sure the upgrade process be smooth.