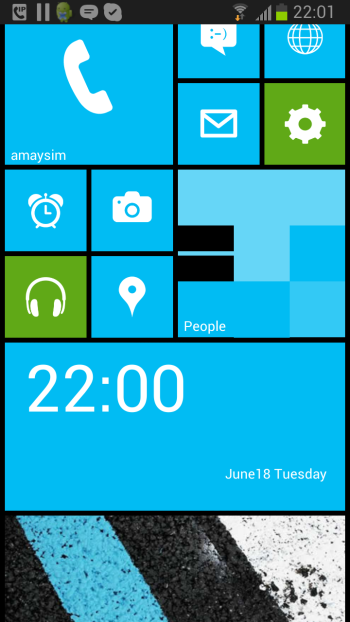 The one of great feature in Android is able to change the launcher. I can change the look and feels of the OS. Recently, I downloaded the Launcher8. That converts my Galaxy s3 into a Win Phone 8. The home screen looks 98% with Windows Phone 8. All things are presented in the big tiles style. Moreover, the apps are presented in a big list. That sounds easier to use than the TouchWiz, the pagination style. That is cool! I highly recommend you to try it.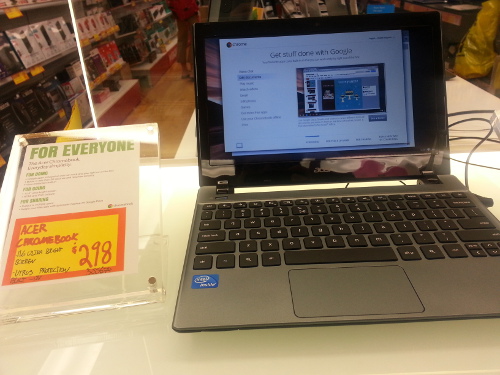 Yesterday, I did a "window shopping" at JB-HiFi. I found the chromebook finally arrived in Australia. That looks similar with Netbook and the price is similar with a netbook too, around $300.
That is not very attractive to myself. If you need a device is portable and just for surfing internet. I will choose a tablet, they are more portable than this. If I need a device is good enough to do some work,I will use an ultrabook, they are with a "real keyboard".
If I buy a chromebook, it has to drop the price around $100. In this case, that is more attractive than a tablet.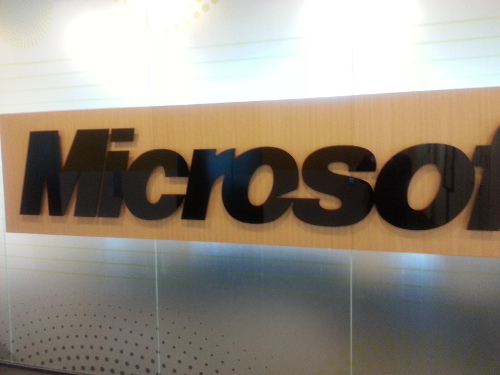 Today, I went to the Microsoft Brisbane Office. This is for attending Microsoft Bizspark Developer Camp - Windows/Windows Phone 8.
The meeting was great! We learnt Windows Azure, PhoneGap and developing Windows Store Apps. A ton of useful content. The most impression content was about Windows Azure Mobile Service. That is all around cloud-based restful service. You can use the restful service to modify the cloud data. Moreover, it has access control and corn job. That is quite good. The most important feature is push notification, it supports their push notification service, ios and google too!
Besides the technologies, they have some opportunities to share our experiences on development of Windows 8 and Windows Phone Apps. There is a QUT student who developed a Windows Phone App. This app is listed as the Top 10 app. He got under spot lights. He is developing a paid version, he believe this app can earn some money. That is interesting. It sounds like there are some successful stories in Windows 8 / Windows Phone 8 apps world.
After this meeting, I will spend sometime to learn Windows 8 Apps Development. This area sounds matured and a good area to exploring.
I need to a ultrabook , a really portable laptop. At WWDC, Apple released the new Generation of MacBook Air. The specification is upgraded the new Intel CPU, haswell. That sounds better than the option I was considering Lenovo Carbon X1 which is using the Ivy Bridge. Moreover MacBook Air sounds to have better battery life. Do I should buy MacBook Air, right a way. or Wait. There will be more Haswell Ultrabook in the market very soon.
Freemium model is widely using in Mobile App. You can play the games without any charges, but if you want to get some extra functions, you need to pay. For example, you can pay some money to get some extra weapons for game characters. There are many successful stories.
We(AdvGen) are trying out this model. The users can use our free version with the basic function. If they want to have some more advance functions, they need to buy the premium version. In the way, the users can try the app first, they can see whether the app is suitable for them and the free version can worth the trust from the users at the mean time.