My colleague got an iPhone 4. I found even my Galaxy S got super amoled, the screen quality is bit poorer. I am a bit sad about it.
There is a known problem for GPS Accuracy in Galaxy. After my Galaxy S upgarded to JM1, that doesn't help at all. I tried to check my location, it spot me at the street next to the location where I stay. That is around 200m away. I hope the future 2.2 upgarde can fix it!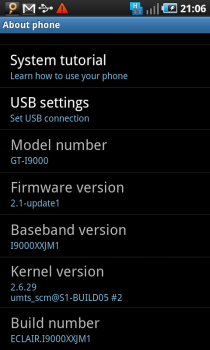 I have upgraded my Galaxy S to JM1. Before the installation, I was wondering whether that is Android 2.2 upgrade. That actually that is not. I found that is some improvements in default Samsung application set. I found there are only a task manager added in the default application set and more detailed instructions about unlock screen at sleep mode. That is! They are still Android 2.1.
Telstra has announced HTC Wildfire will be in their shop on 24 August. Moreover, you get it as a pre-paid for $349. I think that is the first pre-paid Android phone in Australia.
Well, let's talk about the phone. That is pretty much standard HTC phone. It got Sense UI and Friend Stream. There are "non-standard" HTC feature. It has a LED flash(but I don't think that is very useful, that is much to use a torch.) The brightest feature is Swype. That is a sliding input method. I got it in my Galaxy S. That is very useful.
In a conclusion, that is very standard HTC phone, but it has an attractive price tag.
Reference:
Telstra
Google stated Nexus One will be their new standard dev phone. The price is good too, $529. Moreover, it will have Android 2.2(you need to download the update after the device is switched on). That is not bad at all. If I had not bought my Galaxy S, I would consider this option.
Reference:
Android Blog