Category: "Android programming"
DhcpInfo.dns1 and DhcpInfo.dns2 is an integer, not a readable IP string,"x.x.x.x". That is hard to understand. I did a search in internet. There are a number of people to write their own function to do that. Actually, Android SDK has a formatter to do that.

Code
| | |
| --- | --- |
| | Formatter.formatIpAddress(info.dns1) |
In the most situation, XML file is case-insensitive. I thought that is the same case as Android Layout XML. There is no different between and . There is a run-time exception thrown about the invalid "" element. I changed to . Then everything is fine. I found Android Layout XML File is case-sensitive! Please be careful about that.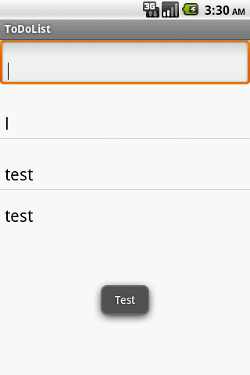 In the C# Wolrd, we always use "MessageBox.Show (String)" to generate on screen notification (Pop-Up Message Box). In the Android, it has a similar thing calls toast. That is a small square box on the screen. Well, this is not just a single line of code, like Toast.Show(string). But that is just a few lines of codes more.

Code
| | |
| --- | --- |
| | Context context = getApplicationContext(); |
| | CharSequence msgText= "Test"; |
| | Toast toast = Toast.makeText(context,msgText, Toast.LENGTH_LONG); |
| | toast.show(); |
Apple has announced iPhone 4S and iOS 5 update. I need Google to response this news too! Last week, they has announced Galaxy Nexus and Android 4.0. That is the new generation of Google Phone! Moreover, that is the first Android which can use in Tablet and Phone! I hope we can get a Galaxy Nexus soon too!
Reference:
Android Blog