Setting the Icon of a window in WPF is very simple! In your window xaml, you need to put the filename of your icon file in icon attribute, like the following:

Code
| | |
| --- | --- |
| | <Window x:Class="GUIDGenerator.Window1" |
| |   xmlns="http://schemas.microsoft.com/winfx/2006/xaml/presentation" |
| |   xmlns:x="http://schemas.microsoft.com/winfx/2006/xaml" |
| |   Title="GUIDGenerator" Height="300" Width="300" Icon="generator.ico" |
| |   > |
Moreover, please the properties in the icon file. The build action sets to be "Content" and Copy to output directory sets to "Always".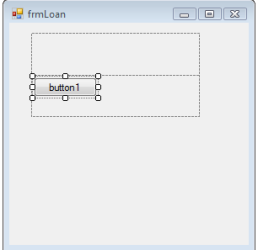 I was tried to drop two buttons into TableLayoutPanel(Winforms). I can't do it. I thought TableLayoutPanel should works very similar with GridPanel in WPF. It should hold multiple controls. I thought that should be the problem my SharpDevelop. So, I tried to upgarde my SharpDevelop to the latest, version 3.2. It still doesn't. Thus, I believe TableLayoutPanel can hold only one control.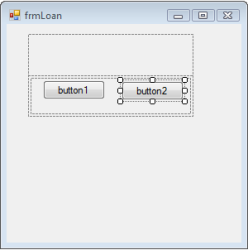 To solve this issue, the solution is very similar, just dropping a panel inside the cell of TableLayoutPanel. That works! Panel control can multiple controls.

I was trying to align some buttons in the center of a windows form. I was tried to find any properties in a button can set it to be center aligned. But there is no such property! I tried to use layout controls. The table layout control can be very similar stuff. That is still not what I want. Of course, I can do it in the windows resizing, changing the button positions by codes. But that is too complex! Finally, I found a simple way. I just drop a panel at the center position and set no achor. I think that makes it flow at the center.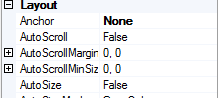 And then, you can drop buttons in the panel and set their achor property to "Top, Bottom, Left, Right"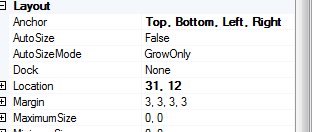 Then it will move to the center position when the windows is resized.
I have been asked to build a library management system for my church. That is very very simple system. The system only needs to track the borrow records. I don't think that even needs a database. Orginally, I planned to use serialization for storing the records. But if in future, they want the records to be viewable on our church website as well. Then I need to port the records to the database and change the application to use a database. OK, maybe, that is good to install mySQL in the computer. Well, that is too over-kill the resources. So, I found Sqlite. It can relpace the flat system to store the record. Moreover, it has an ADO.Net driver and is fully supported by NHibernate. In the future, I can port the codes to another database technology by changing database driver in NHibernate. Finally, I chose Sqlite as the data storage.
Now is 2010. So, I think Visual Studio 2010 will be released not far away. That is in Beta 2 now.
Then I think that is a good idea to watch an overivew video of Visual Studio 2010 from MSDN
There are some new key features in Visual Studio 2010. It got the support for parallel programming(that is good for Multi-cores CPU), MVC 2 and a new Managed Extensibility Framework(That is a component technology, it makes the developers can be easier to develop visual studio plug-ins). And for IDE, that is completely built on WPF and the startup page is a xaml file. So, the user can customize the startup page.
That sounds a lot of improvements.