I am an Android Application Developer and I am not a Windows Phone owner. But I still believe Windows Phone will have at least 25% of market share in the smart phone sector. I think Windows Phone will success in the Enterprise Market. There are a lot of companies using Exchange Server. If Windows Phone can work better with Exchange Server better than Android and iPhone, that makes sense. Windows Phone will be the best option for a lot companies as their staff phone. Moreover, Microsoft got a strong partner network. They can use their partner network to encourage the developers to develop their apps in Windows Phone. I believe only basis on these two points, Windows Phone will success!
During this year, that is a transition period from 32-bit to 64-bit. That should not be a problem in .Net application. .Net should be CPU Neutral. But sometimes, some.net dlls will call others native dlls, such as SQLite and some SQL special types. They are only for either 32-bit or 64-bit environment. Thus, please be aware of this issue.

I have been using ASP.Net for years. There is a very popup control, dropdown list. I used this control thousands of times. I know it very well. Recently, I built a winforms application. I need to use a dropdown list. ComboBox Control is the most similar with dropdown list. I found there is a different. I like to add a default option, new ListItem("Please select a type",""), into the items of the control. If the program will check whether the user selects this option, if that is the case, it will treat the input to be null. The items in ComoboBox is ObjectCollection. They are just a list of objects. You cannot use ListItem.
Well, you can create your version of ListItem objects and convert your domain objects into ListItem. Finally, you can bind the list of ListItem objects into the comobobox. In this way, Combobox will works like a drop down list.
I chose to use a simpler approach. I just created a domain object with ID 0 and insert it into the list.

Code
| | |
| --- | --- |
| | ResourceType empty = new ResourceType(); |
| | empty.Name="---------------------------------------";       |
| | resourceTypes.Insert(0,empty); |
| | ddlSearchResourceTypes.DataSource=resourceTypes; |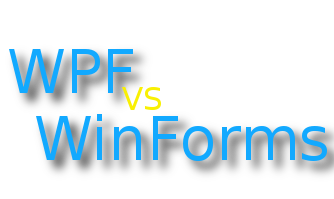 I found I like Winforms Programming more. I felt that is easy to use. I can use TableLayoutPanel to create a complex UI. I know Grid in WPF can do a similar job, but I still think TableLayoutPanel is easier. Maybe, that is because I have been using WinForms for that many years! Moreover, I have experienced WinForms Application is faster. Thus, I like Winforms more.