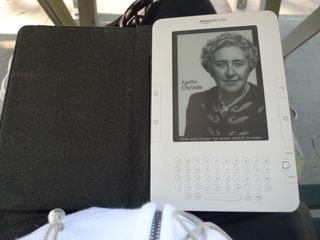 Yesterday, I went out for a picnic. Moreover, that was a sunny day. It should be enjoyable. But I got some free time. That was a great time to read. Thus, I got out my Android tablet. I wore a sunglasses and under a strong sun light. I really could not read a pdf file comfortably! Then I got out my Kindle. That was a different experience. That was no problems at all. So, I think eInk is better for reading. Even we have a tablet, but an eInk reader is still essential.
I think Windows 8 will be coming soon! there is consumer preview available for public. Moreover, I got an invitation for Windows 8 Boot Camp on April. I think they will train up the developers close to the official release. Yes, I think the release date is very close from now!
Maybe,some people think software design process is more a kind of art. However, the key of software design process is repeatable. I can build software in this way for this project. I need to do in a same way for others projects. So, it is a kind of engineering.
I thought GUID() can generate a new GUID in SQL Server. It generates the error. That is very close. The correct keyword is NEWID().

Code
Recently, Apple released their new iPad. It supports 4G and has Retina screen. The resolution is 2048x1536 which is higher than Samsung 10.1 Tab(1280 x 800). Our Android Side need to work harder. I am waiting for the new generation of Android Tablet. I wish they can support 4G and better screen.