After the new star, Bing, launched their service. Thay brought a big impact to the search engine market. Google started the sandbox testing their search core, Caffeine. Today, I read an article from eweek. Yahoo has a new search framework too.
Read More:
http://googlewatch.eweek.com/content/yahoo/post_4.html
Nokia gave a press release about their first netbook, Booklet 3G. In the press release, the new netbook will have 3G(HSDPA), wi-fi and Bluetooth. It got 10-inch HD glass screen AGPS and 12 hours battery life. That is very impressive.
For Operation System, that is not running their OS or Linux. That is Windows Based. I can guess that is Windows 7, from the Promotion Video.
Besides of the hardware specifications, it looks stylish as well. In the photo released to the media and the Promotion Video, it looks very thin and there are three colors to choose, Black, White and Blue.
Nokia will have a offical launch it on 2nd September.
Find out more:
Android does not come with a task manager. So, you can find your own. But Thanks the community, there are a number of free task management applications in Android Market.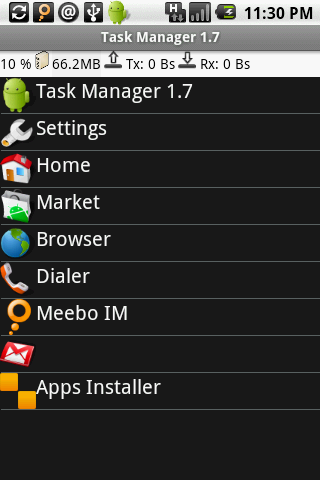 It has a very easy to use interface. This is a Task View, which is grouped the tasks by applications. Moreover, you can kill multiple applications by selecting them.
I found out how to screen capture in Android. I don't need to install any apps from Market and that is completely free. All you need is Android SDK and a few easy steps as following:
1.Install SDK
2.Go to your Android Phone.(I am using HTC Magic with Android 1.5)
3.Open Settings.
4.Go to Applications
5.Go to Development
6.Checked USB debugging
7.Your phone to computer via USB
8.Load ddms under [Android-sdk]\tools
9.You will see a list of Android devices connected.
10. Select your phone, there should be only one device with phone icon like this:




11.Selec Menu Device->Screen Capture....
That is!