I am building a Joomla Component. I found there are some Javascript errors in core.js when I click the actions. I have found out these two variables are required.

Code
| | |
| --- | --- |
| | <input type="hidden" name="boxchecked"/> |
| | <input type="hidden" name="task"/> |
Moreover, the form needs to be named as adminForm. That is because core.js has some javascript to do the validations. It will access your form.
When I install a new plug-in, I got this error:
"JFolder::create: Could not create directory plug-in"
Later, I found out the cause. The parameters in configuration.php are not configured correctly.
Please make these two lines in configuration.php pointed to the correct directory.

Code
| | |
| --- | --- |
| | var $log_path = '/home/user/public_html/logs'; |
| | var $tmp_path = '/home/user/public_html/tmp'; |
I found WordPress 3.3 is released.This version has a better uploader. Moreover, there is an improved dashboard user interface. I recommended you get upgrades. I have already my wordpress blogs!
Please click here to download the latest version or use the update option in wordpress administrator panel.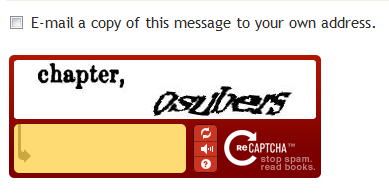 I got a lot of spam from the Joomla contact form, I need a captcha plug-in. Actually, there are a lot of anti-spam plug-in in Joomla. But they are fairly complex, some of them even have a custom-build contact form. That is too much.
After I spent some time to research on the internet, I found a plug-in calls Joo ReCaptcha. That is very simple. After I installed that, the contact form will have ReCaptcha image under the input fields. That is great!
I got a new website which is using Atahualpa 3.6.7 wordpress template. Yesterday, we tried to place an Adsense code in there. It doesn't work. We believed the website were blocked by Adsense. That is not truth! We tried to switched the template, then that works! The solution is simple to use the latest version of Atahualpa, they already fixed this bug!