Category: "Announcements [B]"

I started to use Visual Studio 2013 for some new projects. I found there are a number of new features make our life easier, such as displaying the number of references for each class and method.
Those small features help us to build the applications easier.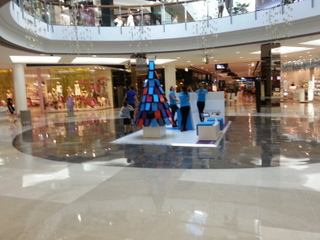 When I did my shopping at Westfield Carindale, I found there was a roadshow for Microsoft Surface. That was interesting! In front of the counter, there was a Christmas Tree which is made of Surface. That sounds very geek! Beside that, there is something real! There were a few surface 2 and surface pro 2. I tried a surface pro2! That is cool! It has Windows 8.1, not the RT version! Moreover, it has a touch cover, which has a physical netbook size keyboard. That is better than surface which has only a soft keyboard. I think if I have money, I will buy that as a chirstmas present for myself!
Recently, I went a microsoft meeting. There were a number of people tried Windows 8.1 Preview. According to what I heard, although it will be not very stable in some situations, they are happy about the improvements, such as better sky drive and windows store. The most interesting thing is everyone mentioned the "Star" is back!
My company started to use Team Foundation Service, which is the Team Foundation Server On Cloud. That is free to use up to 5 Users for each project.
I found that is useful for us. That saves the administration effort to manage a Team Foundation Server in our Office and save the cost of hardware. All Server Load goes to Microsoft. In additional, we can always use the latest version of Team Foundation Server. We do not need to worry about upgrading the software and install the patches. Lastly, it has a nice interface for Agile Development. We can create the user stories and do the sprint planning. That is so great! I highly recommend this.
P.S. It support GIT. We started to use it for our PHP projects too.
I am writing a CMS in C# and a html editor in the asp.net page. Therefore, I got some HTML code in Request.Form Object. Last night, I found the problem. I got HttpRequestValidationException when I save a html content. That is safe by rejecting any post variables has html code. So, I tried the used [ValidateInput(false)] in the controller, that is not working. Finally, I found I need to turn off that globally in web.config

Code
| | |
| --- | --- |
| | <httpRuntime requestValidationMode="2.0" /> |
| |     <pages  validateRequest="false"> |
Please remember to use <httpRuntime requestValidationMode="2.0" /> for switching the validation mode into 2.0, unless just turn off validate request is not enough!