Category: "News"
I read a news from Australian IT. Skype is sold. That draw my attention, because I am using Skype instead of traditional phone networks. My family members are in Hong Kong and Canada. I am in Australia. So, I did a lot of international phone calls. I am keen to know what is the future directions of Skype? Whether they are keen to expanding VOIP services, maybe doing better in mobile phones. I am keeping my eyes on the news to see the future development!
I have noticed Gmail was down today before I read the news. I found in "Trending Topics" of Twitter, Gmail is in the list. Moreover, there is a people in my Twitter, she was complaining, she could not login Gmail. Then I click the "Gmail" in "Trending Topics", I saw a ton of people complaining about this too. I knew there was a problem. After that, I did a google search news for "Gmail". I found some report about that.
Twitter is a new way to check what is happening in the world!
I just login to Yahoo Mail, there is a brand new interface. The skin is changed as well! Very fresh!


The most noticable change is the new Application bar.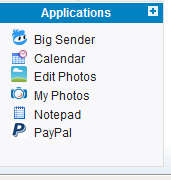 I downloaded a new ROM from HTC for Magic.There are a newer version of Google,fixes with Sync and other security fixes. That is very smooth and not hard at all. There is only a few steps wizard. But please remember, updating your ROM, all data in your photo will be deleted!
The New ROM can download from HTC Australian. Note tha, HTC delivered different version of ROM to different carriers. Please select the version of ROM for your carrier in your country.
I went Google Insights for Search today. That is an intersting thing. "HTC Hero" term is rising popularity, 120% increased with these 7 days in Hong Kong. I guess that is because HTC Hero will be released on September at Hong Kong.