Category: "News"
I read the blog post, Google Wave went to the larger scale "Preview". They started to send out 100,000 invitations. Let's go to Google Wave to request an invitations.
Reference links:
Offical Google Blog
Picasa 3.5 is available to download. In this version, face recognition function is added. After the first run, it will scan the photo in your library and pick all faces. Then you add the tag to each face and even you can link it with your Google contact.
Reference Link:
Google Picasa Blog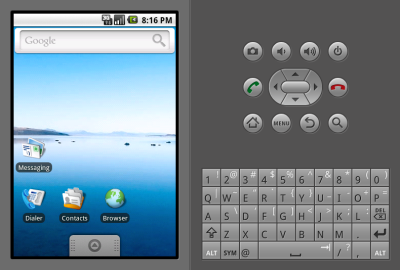 Today, Google released Android SDK 1.6. I have download the SDK and played around a bit the emulator. This seems to be a minior upgarde.

Expanded Search

The search widget can search on web as well as files in phone.

CDMA Support added

A new version of Andorid Market

A new skin, that looks much better.
The screen shoot for apps is provided

The apps developer can specify the target screen resolution.
Text to speech function added.
Keneral 2.6.29 is built-in
Gestures functions added,Now,app developers can define their own gestures action. Such as draw a "g" to open a new window.
The emulator has not Market and seems to be not many new functions can play in there. But I have tried the search function, a search for all is very very convenient. That is very important in a handheld environment.
I am looking forward the new android into a real phone. New devices comes with 1.6 will be around early October. But I guess the new ROM of HTC Magic may be later that.
OK, for time being, let watch the induction video from Google.
Credit :from Google use under Creative Commons 2.5
Reference Links:
Google Blog
Android 1.6 Highlights
LG announced their Android Phone,LG-GW620. It has a QWERTY keyboard. By my frist impression, it looks very similar Motorola Dext. Moreover, from the photo is released by LG, it does not sounds like to have a custom UI. I guess the expirenced with HTC Magic. But, I think we need to wait for the further specifications for the final conclusion.
Reference Link:
LG Press Releases
Motorola has announced their first new Android Phone. Same as HTC Hero, it has their own custom-made homepage,such as MOTOBLUR, getting facebook, twitters togethter. It has very similar with others, 3.5mm headphone jack, 5M pixels camera,etc. However, It is different from the most current Android phones, Hero and Galaxy, it has QWERTY keyboad.
Reference Links:
Press Release - Dext
Dext UK Website