Category: "News"
Besides of Nexus 7, in Google I/O, they announced Nexus Q. That is a kind of entertainment center. It can connect to TV and speakers. It sounds like an Apple TV killer! Well, that has more functions! It can controlled by your Android phone and Tablet. In addition, it can do social streaming. It's cool!
Moreover, I love that sounds quite creative. It is not in a box, Google turns its new product into a Sphere! It looks fresh!
But that is a bit sad, it only can be pre-ordered in U.S. for $299.
Source:
Google Blog
In Google I/O, they announced their own 7" Tablet,Nexus 7. That sounds fast and light, 4 cores CPU and 370g weight! That will be suitable to be a e-book reader and movie player. The most important feature is it can be carried by one hand!That is easy to carry around!
Moreover,I think it should have the latest version android. It will be available around mid-July in U.S., U.K., Canada and Australia. We,our aussie, can have one! We need to place the order in Google Play for AUD$249. Well, this times, Google Builds it and sells it too! That's cool!
Source
Google Blog
I went to City today. I saw a real Galaxy S3 in Vodafone phone! The phone is not too big, that is still similar with Galaxy Nexus. Moreover, it is very light weight! That is so good! Lastly, that has a Samsung version UI, that sounds more than the original UI. That is only a drawback, that is quite expensive.It needs $59 plan!
Last night, I was in the Opening Ceremony of Microsoft Innovation Centre in Brisbane. There are a number of startup companies, similar with mine being invited. I am very impressed there are that many of startup companies in Brisbane. There are more than a hundred people attended! Moreover, I got the impression from the people I met, the most of startup companies in Brisbane funded by the owners. That is different from US, getting the funding from VC. That is interesting.
Anyway, let's talk about the main point. Microsoft Innovation Centre in Brisbane is the first Microsoft Innovation Centre in Australia. It will be the hub for startup companies and provide the service to startup companies from their partner. Primary goal is helping the startup companies. They partnered with Universities, such as UQ and QUT, River City Lab, which is a co-working area provider and business services providers. That sounds it got a strong backup. I am forwarding to have more information about the services from Microsoft Innovation Centre. I really need some help to bring up my company.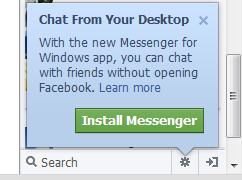 I found Facebook Messenger is getting better. It has a desktop version. Moreover, today, I got a message with a photo attachment too in Facebook website. Facebook Messenger is a kind of IM.