Category: "Android"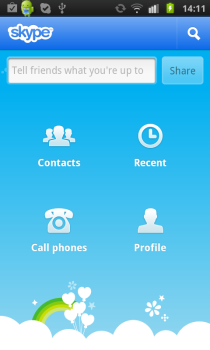 I have upgraded my Skype in android this week. I found there is a big improvement. The uer interface is much much nicer. Finally, it got a home screen, rather than a simple contact list style window. Moreover, now, I can send sms in there too! That is so great!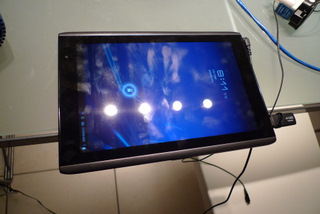 Another good feature in Acer Iconia A500 I love! That is the External USB Port. It can connect to an USB Flash Drive. That is very convenient. For example, last Saturday, a friend needed to play a song in our fellowship. Before I bought my tablet, I needed to a netbook or laptop for playing songs. But now, I only need a tablet. I can plug it into my tablet and browser though a file explorer app. I picked the song and click it, then it will plays from the tablet. By the way, the sound quality of A500 is very good too!
Moreover, you can plug in an external keyboard to USB port. Now, you can turn A500 is a cut-down version netbook! That is so great!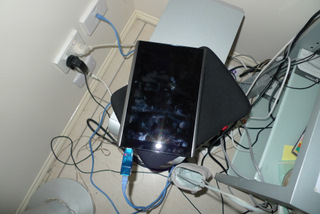 I don't like wireless network. I don't feel that is safe at all. But how do I connect my Tablet, Acer Iconia A500, to internet?! Maybe, it got a USB port, then I can try to plug in an USB Network Card. Android is a kind of linux. It should support that and an USB Network Card only costs me $2. That is worth to try. But the result is failed. I guess Android did some in its linux kernel. They may blocks some drivers. I guess I have to root it. That is too much hassle. Finally, I bought a wireless access point.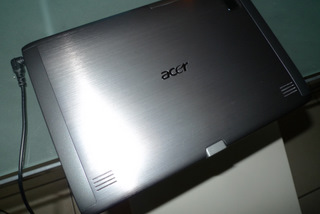 I have bought Acer Iconia A500 for around two weeks time. I think that is a good time to write a review about it. I will talk about its looking firstly.
I like its looking. It got its own style. At least, it doesn't look a iPad clone. Moreover, it got curvy edges. This looks cool!!! In addition, its body is glossy gray. That makes it look more cool too! Lastly, the case is made of aluminium. It can prevent scratching on the body. That sounds a good quality build. But I guess that is the reason to make it a bit heavy!